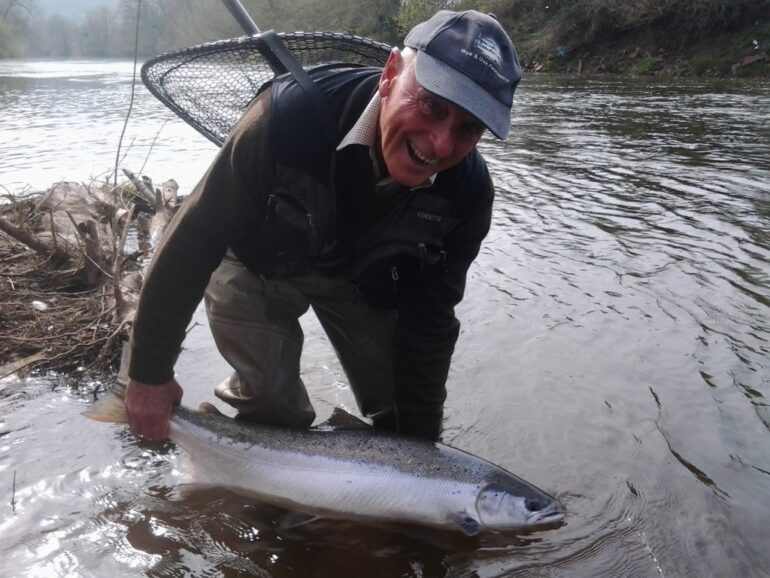 Prospects for the New Salmon Season..
The River is out of it's banks and as I write this the fields are under water so it must be getting close to the start of the Salmon Fishing season.
The season starts on Thursday 3rd March and this year with the decline of the number of salmon, perhaps understandably the Membership of the salmon fishing section is down at Ross Angling Club.
However salmon anglers are a determined lot and providing the water is down to a reasonable level of around the 1 metre mark on the Environment Agency River level gauge at the Hope and Anchor there is a very good chance that Ross anglers may take a salmon on the first day. This comes after two seasons of chaos caused by the Corona virus epidemic.
Early season when the Wye is often high it is the angler who opts for spinning that has the best chance, however if the levels are down to enough to allow anglers to wade strategic sections the fly angler will be in with a excellent chance of a bright silver spring salmon. The lower middle Wye at Ross is renowned for it's large spring salmon so any members would be wise to use strong tackle for early season fish which as Ross AC past records show often run to 20lb or more.
Early season fly fishers will most likely be using sinking or intermediate lines which need to be fished slowly and long casting need not be needed as there are many places on Ross waters where fish are taken close to the bank. For the spinning angler the usual devon minnow or spoon or indeed the ubiquitous flying C will all be employed but again fished deep and slow. Let's hope for a salmon on the first day. I'll be down there for sure trying for a silver tourist!
Trevor Hyde.