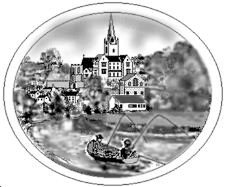 About Ross On Wye Angling Club
Ross on Wye Angling Club is a well established angling Club founded in 1912. The Club is run by a committee on behalf of the membership.
We offer 5.5 miles of superb fishing on the River Wye in rural Herefordshire.
We cater for keen coarse anglers, offering excellent fishing for specimen barbel, chub and pike along with perch, roach, dace and some grayling.
We offer salmon fishing with some historic named pools and a variety of waters suitable for both spinning and fly fishing.
You will be fishing in wonderful scenery on an SSSI river.
We keep our Membership rates as low as possible and are a not for profit Club.
CLUB HISTORY
The Ross on Wye Angling Club was founded in 1912 but the early days of the Club are at best a bit sketchy. With a little bit of research it can be determined that it is not until 1924 that anything of an organised nature comes along, though further digging may prove otherwise.
Through the 1920s and 1930s the waters available to members was by approach to individual landowners and the Club had a continual task in persuading the owners that the Club Members should be allowed to access the fishing. The Landowners were also made Vice Presidents of the Club for the duration that Club was permitted access their waters to fish. One such Vice President was Robert Pashley an Alderman of Ross and an expert salmon fisher who had 10,000 salmon to his rod during his lifetime. He lived at Kerne Bridge.
By the 1930s the were approximately 100 members most of whom came from Ross with a sprinkling of members from Birmingham who came down to fish by train. The membership rate in the 1930s and 40s was 2/6 (pronounced 2 and 6) which is twelve and a half pence in modern coin.
During the Second World War 1939-1945 the Club was put on a War Footing and all  normal Committee activity stopped and the Club was run throughout this period by the Committee elected in 1939. The Club also bought what were known as War Bonds which were intended as a loan to the Government of the time for the period of the War. They were paid back by the Government after the War with interest.
Through the 1940s,1950s and 1960s there were many Roving Pike matches which seem to be well supported by the membership of the time. These are thought to have been one means by which the number of pike were controlled in the Wye which at the time was a major salmon river and of course the pike were a threat to salmon in its various life stages. The weigh-in for the matches was always the Ross AC Club HQ so those pike didn't go back!
Talking of which there have been at least two early Club Headquarters the first appears to have been the Railway Inn which stood in Brookend St Ross. The Lamb Inn part of Wintle's Brewery in Broad St. Both these pubs are long gone.
Ross on Wye also had two affiliate clubs in the early days one being the Cheltenham Angling Club and they other the Gloucester Angling Club.
It was only in the 1970s that Ross AC had it own salmon fishing for the first time up until then the waters were shared with the salmon fishers of separate clubs/syndicates and it inevitably there was occasional friction.
Barbel are not native to the River Wye. In 1967 the Angling Times along with the River Authorities of the time thought that it would be a good idea to stock the Wye and the Severn with barbel. Even as late as 1989 there were so few barbel in the Wye as not to be worth fishing for!
TH 2021
The Committee
Robert Leather
I am a Ross on Wye resident and have been a member of our Club since 2013. I am fortunate enough to Chair our fantastic Committee. My top priorities for ROWAC are to enhance and protect the ecology of the River Wye, provide affordable fishing on this iconic river and to promote the benefits of angling to all. I spend time by the river on most days and have been lucky enough to catch some amazing fish from our 5 miles beats including barbel (11.5lb), carp (28lb), brown trout (8.5 lb), chub (6.75lb), salmon (12lb) grayling, pike (26lb), dace and roach.
Contact me at: chair.rossac@yahoo.com
Gary Kent
I live in Ross on Wye, right next to Wilton Bridge and am a keen coarse angler.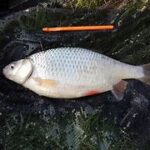 Paul Unsworth
Secretary for the Club for a number of years. Keen coarse angler and lives locally.
Paul Dowgill
I joined the club in 2017 having moved to Walford in 2015 and have been the treasurer since 2018, previously undertaking the role with another club. I had been used to fishing smaller rivers such as the Kennet and Thame so a larger, spate river has been a learning curve. I particularly enjoy standing in the river trotting a float (so far chub to 5lb+ and barbel to 8lb) and chub fishing in the winter.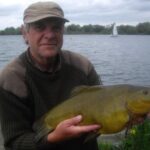 Nick Simmonds
I've been an angler for nearly 60 years. Learned my stuff coarse fishing and later branched out to include reservoir trout and for a few years had a boat I sea-fished from in and around Poole Harbour. I've also enjoyed a bit of fluff-chucking in foreign seas and have caught (one!) bonefish and quite a few striped bass.
I joined Ross-on-Wye AC in 2011 and was invited to join the committee in 2013, taking on the Membership Secretary role in 2014.
To pay the bills I'm Membership Manager for the Angling Trust, so if you're not already an Angling Trust member please join today!
To contact me: membership@rossangling.co.uk
Kim Harman
My angling history is littered with disastrous match results interspersed with the occasional victory. I have not seriously match fished since October 2015 when I fished my last Wye Championship match at Hereford. Prior to moving to Ross on Wye I was a member of Abbey Cross A.S. a large North London club which had a strong match fishing core, a good selection of it's own lakes and rivers as well as a thriving social scene. My first ever fish was a perch caught on a seven shillings and sixpence rod from the Hollow Ponds at Leytonstone North London. From there I progressed to the rivers Lea, Thames and Great Ouse before discovering and falling in love with the, then, magnificent river Wye. Nowadays I spend my time locally at Weir End or the Town section.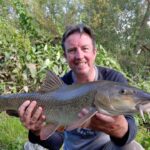 John Cheyne
Ordinary Committee Member since 2020.
I'm a Ross resident who is lucky enough to have a work life that is based around fishing, as my job is Marketing & Communications Manager for The Angling Trust
Fishing wise I'm an all-rounder with a keen interest in fly fishing and lure fishing as well as more traditional Coarse Fishing.
Angling Ambition - To never have a fishing trip I don't enjoy and learn from, and that includes the blanks !
Mike Evans
Club Bailiff and Member for over 20 years.
For guest permits, useClubmate account or call Mike on 07815 099573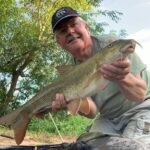 Geoff Ward
Geoff has been a ROWAC member for over 10 years and recently volunteered to join the committee to further support the club. He has over half a century of coarse angling experience and has always been keen to put a bit back into the sport in all the clubs he's been a member of.
Originally from the north west of the U.K. he currently lives in Bath with his wife Colleen. He has 3 grown up kids and two grandchildren so far!
His professional life has been as a Environmental Health Practitioner, working in all areas including Local Government, Military Health, Commercial Practice and more recently NHS Test and Trace. He is now keen, more than ever, to spend more time on the bank!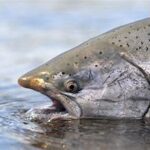 Mike Hoddell
Keen salmon member and former Vice-Chair of the Club.
Will Mynott
Keen new member to the commitee and local vet to Ross on Wye.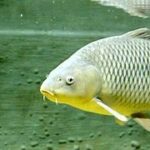 Colin Owen
maintenance.rossac@yahoo.com
Please contact Colin on the above address if you spot any bank work that needs doing.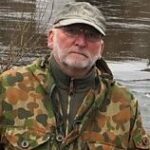 Trevor Hyde
Phone: 01531 822889 or 07468 560845
Contract Trev for Salmon info and Salmon guest tickets.
Get in touch
If you'd like to learn more about our club, membership or anything else, please get in touch.